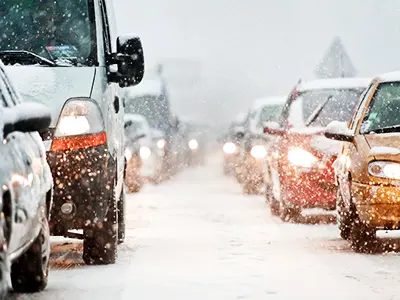 Shelby
10-11-2023
Before the cold season sets in, it is important to winterize your vehicle to prevent breakdowns or accidents, as well as save money on future repairs and fuel. Here are six simple tips to help you check your car before winter.
I. Liquids. Check the level of all fluids in the car. Make sure you have enough motor oil to avoid engine damage. Also check your coolant/antifreeze to prevent the engine from freezing. Check your brake fluid levels regularly to ensure your brakes are working properly. And don't forget to fill up with winter washer fluid to keep your windshield fresh.
II. Wipers. Check the condition of the windshield wipers and replace them if necessary. Good windshield wipers will help maintain excellent visibility during snow or ice. Clean your windshield wiper blades regularly to remove dirt and snow.
III. Winter tires. Check the condition of your tires and make sure they are ready for winter. The tread level must be at least 3 mm for sufficient traction. Consider installing winter tires as they provide better traction and braking performance on slippery roads. If you already have winter tires, check them for damage or wear.
IV. Lighting. Check the operation of all headlights, taillights, flashers and fog lights. Make sure they are all working and shining brightly. Optimal road visibility is a key safety factor during the winter months.
V. Battery. Because cold temperatures can reduce battery performance, check the condition of the battery. Replace a weak or old battery to avoid potential starting problems in cold weather.
VI. Cleanliness of windows and wiper blades. Keep your windows, especially your windshield, clean to avoid visibility problems due to ice buildup. Use special glass cleaning products and do not forget to check the condition of the windshield wiper blades.
By following these simple tips, you will prepare your car for winter and will be able to calmly and safely drive on the roads during the cold season.
In the fall, many car owners think about selling their cars before the onset of winter. Changes in weather conditions, increased maintenance costs and unpredictable vehicle maintenance problems may be additional factors that prompt such a decision.
However, many people face difficulties and costs when selling a car on their own. Having to post ads, communicate with potential buyers, conduct test drives and negotiate price can be a tedious and time-consuming process.
For those who want to avoid these difficulties, the Shelby company offers convenient conditions for purchasing cars. We provide a fast and transparent transaction, guaranteeing the owner a fair price for his car.
What are the advantages of cooperation with Shelby?
Firstly we buy cars of all makes and models. You no longer need to look for a buyer who is interested in your car.
Secondly, the company is ready to buy the car in any condition. Regardless of whether it has engine, suspension, body or electrical problems, we guarantee your purchase.
Thirdly, Shelby offers favorable conditions for customers. We provide a free car assessment and offer a fair price based on the market situation and the technical condition of the car.
In addition, the company takes care of all the formalities and organizes the transaction process. You don't have to worry about preparing documents, completing the transaction and transferring the car to the new owner. We will provide you with professional support at all stages of the sale.
So, if you want to sell your car before winter and avoid the hassle of selling it yourself, contact us. A fast and honest transaction, a fair price and professional support - that's what you can expect when working with them.