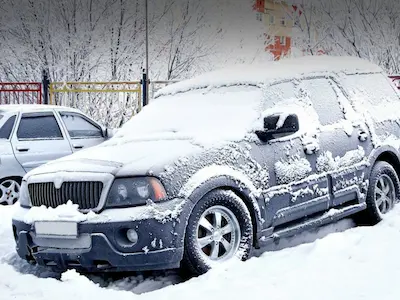 Shelby
21-11-2023
Winter driving is a task that requires special attention and caution. Natural conditions such as snow and ice make driving on the road dangerous and difficult, but in addition to bad weather, there are other problems that drivers face during the winter. Do not forget that snow, ice, salt and other road chemicals can cause serious damage to the body and chassis of the car. That's why it's important to look for features like blind spot monitoring, brake assist, heated side mirrors, and other safety features.
Some vehicles may be less suitable for winter driving due to their design, features or performance. Although modern technology has greatly improved the winter driving capabilities of most vehicles, there are still certain features that can help ensure winter driving safety. One such feature is the anti-lock braking system (ABS), which prevents the wheels from locking and allows you to maintain control of the car when braking. Various stability control systems can also be helpful if you lose control on slippery roads. All-wheel drive (AWD) vehicles tend to be more stable on winter roads because they send power to all four wheels. This is especially important when driving in snowy or snowy areas.
Among the cars that are most suitable for winter driving are Land Rover, Jeep Cherokee, Subaru and other SUVs. They not only have the specified safety features, but also have good maneuverability and controllability on difficult road conditions. At the same time, some cars have their own disadvantages when driving in winter.
It is known that the Porsche 911, with its wide rear tires, powerful rear engine and low ground clearance, is not the best choice for driving in snowy conditions. The BMW also made the list of worst winter cars due to its low ground clearance, which can only reach four inches. In such conditions, it is always better to have more ground clearance to cope with the winter or to pre-prepare for difficult off-road conditions. In addition, many late model BMWs are equipped with rear-wheel drive, which exhibits less efficiency in deep snow and ice. And the Chevy Corvette's ultra-low ride height forces you to pull it out of skids more often than you'd like, so it's best to bring a shovel. Additionally, the rear-wheel drive Corvette suffers from issues with its braking system, which can make it a little hesitant to use.
The choice of a car for winter driving should be based not only on its design and performance, but also on its safety features and ability to cope with difficult road conditions. It must be remembered that despite some limitations related to design and performance, most modern cars still have good enough characteristics for winter driving. However, to ensure safety and comfort, you may need additional accessories for winter use of your vehicle. For example, tires with winter tread or studs can significantly improve your vehicle's traction in snowy and icy conditions. Using car covers or clear films to protect your car from salt and chemicals can help prevent corrosion and damage to your car during the winter.
It is also important to properly prepare for a trip in winter, including checking the oil and coolant levels, battery charging, condition of lights, heating and air conditioning. In addition, you should make a travel plan in advance, taking into account weather conditions and possible obstacles on the road. Winter driving requires caution and concentration. Follow safety and speed guidelines, maintain distance from other vehicles, use winter gear, and always be prepared for the unexpected.
So while some vehicles may have winter driving restrictions, most modern models are equipped with safety features that help improve handling and safety in winter conditions. With the right preparation and attention, you can handle the challenges of winter roads and get to your destination safely.