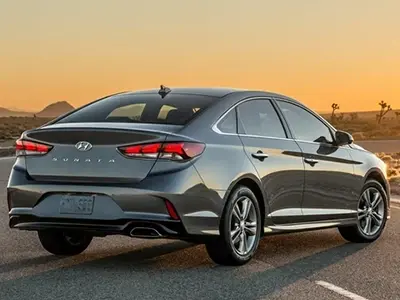 Shelby
18-10-2023
Experts have found a reliable business sedan from Korea that deserves attention when choosing. We are talking about the new generation of the Hyundai Sonata sedan, developed on the basis of the same chassis and units as the sedan Kia Optima. Both cars are direct competitors for Toyota Camry and were created with the same task.
The seventh generation Sonata offers a high level of comfort and extensive basic equipment. The interior space is superbly organized, with plenty of space for passengers and luggage. This makes the car ideal for long or business trips.
The Sonata's suspension provides a soft and comfortable ride, while at the same time having good handling and road stability. The car is stable at speed and handles corners easily. It also has excellent braking performance, making it safe in emergency situations.
The main engines used in the Sonata — These are a 2.0-liter naturally aspirated engine (150 hp) and a 2.4-liter engine (188 hp). Both engines are considered quite reliable and offer enough power for everyday use. However, there are some problems you should be aware of. For example, a 2.0-liter engine has high oil consumption, especially when using low-quality fuel. The 2.4-liter engine can also suffer from oil consumption and has difficulty adjusting clearances.
Transmissions used in the Sonata include six-speed hydroautomatic transmissions. They are well known for their reliability and show good performance in operation. However, they may have problems with the differential splines, so it is important to handle the car carefully and promptly change the lubricant in the gearbox.
In terms of operation, the Sonata has several disadvantages. For example, the noise level in the cabin may be a little higher than we would like, especially on poorly surfaced roads. Some owners also complain about the inadequate operation of some electronic systems, such as rain and light sensors.
In addition to the above advantages and disadvantages, when choosing a reliable Korean business sedan Sonata, you should also pay attention to the following points:
Design The Sonata is a modern and elegant car with harmonious lines and stylish appearance. It differs from its competitors with its original appearance and can attract attention on the road.
Quality of finish. The Sonata's interior features quality materials that give it a premium feel. Leather trim, ergonomically placed controls and good build quality make the interior comfortable and enjoyable to travel with.
Parts Availability and Service The Sonata has a wide market presence and spare parts are readily available and can be found at various service centers. Also, the cost of servicing Sonata is usually not excessive, which makes it economically attractive for owners.
Safety. Sonata is equipped with a variety of safety systems, including anti-lock brakes (ABS), stability control (ESP), Hill Start Assist Control (HAC) and many others. This provides an increased level of protection for the driver and passengers in the event of an accident.
Warranty The Sonata comes with an extensive warranty, usually lasting five years or a specified number of kilometers, which shows the manufacturer's confidence in the quality of its vehicles.
When choosing a Sonata, it is also important to consider your individual preferences and needs. Some owners may prefer a larger trunk size or more fuel-efficient engines, so it's worth taking a look at other models and options available on the market.
Sonata is a reliable and high-quality business sedan that can be an ideal choice for those who value comfort, safety and stylish design. It has a high level of equipment, good handling and fairly reliable engines. Thanks to its reliability and affordable price, the Sonata can be a good choice for those looking for a reliable vehicle for business or family travel.
And another important point. If you have the idea of purchasing a new car and parting with what has already served you faithfully, we are ready to gladly help you with the sale. Our almost two decades in auto buyback allow us to offer you the best conditions for selling your old car.
We understand that the process of selling and buying a car can be quite complex and require a lot of time and effort. We guarantee you professional assistance at every stage of the transaction and are ready to take on all the organizational work.
Remember: Seasonal tire change and road safety, why is it important