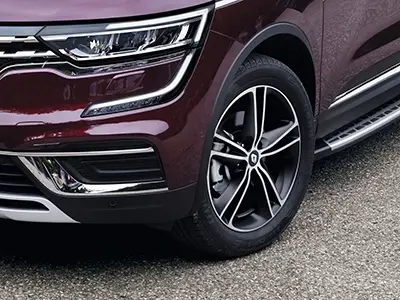 Shelby
25-10-2023
When choosing wheels for Renault, drivers often focus on their design, but this approach is definitely a mistake , which can negatively affect the stability and controllability of the vehicle. Therefore, when choosing wheels for Renault, you should take into account the manufacturer's recommendations regarding the size and other characteristics of the wheels. The market offers both original and non-original models of wheels for cars of this popular French brand.
Original wheels produced by the Renault manufacturer fully comply with the characteristics and properties of the products that are installed on the vehicle as standard. Installing original wheels allows you to maintain the original dynamic, controllable, stable and driving characteristics of the car.
Original Renault wheels have the following advantages:
High strength. For the production of discs, special high-strength alloys are used, which provide the products with resistance to increased loads.
Wear resistance and durability. Original discs are designed for long-term use.
Low weight. The weight of disks depends on their design, size and production technology. The weight of products is always taken into account during development and corresponds to the technical parameters of the car, ensuring its excellent driving characteristics.
In addition, it is worth noting the stylish design of the original Renault wheels. In addition to classic models, the manufacturer offers original options that allow you to personalize the car and give it a more respectable image or a rather sporty look.
You may have missed important news: Unreasonable fines for non-customs clearance, a huge fine in Ukraine
If you are considering non-original wheels for your Renault, then you should choose models that best match the technical parameters of the original wheels. Non-original wheels are produced by other manufacturers under license from Renault. They have similar technical characteristics, but may be slightly cheaper, which for some drivers is a deciding factor. Analogue discs for several car models are available in automotive accessories stores Renault:
For models Duster Authentique and ExpressionForged wheels with a diameter of 16 inches are recommended.
For the Privilege configuration, R16 alloy wheels from the ACONIT brand are offered.
And if you are interested in the Luxe Privilege modification, then it is recommended to choose stylish Thema Black R16 alloy wheels.
When choosing non-original wheels for Renault, you must consider the following:
Follow the manufacturer's recommendations in the vehicle's factory specifications. It is important that the disks meet the recommended parameters, such as weight, size, number of fasteners, etc.
Pay attention to the brand and reputation of the disc manufacturer. Choose manufacturers with a good reputation to be confident in the quality and reliability of the products you purchase.
Consider your design preferences. Aftermarket wheels offer a wide range of styles and designs to help you personalize your vehicle.
As a result, when choosing wheels for your Renault car, it is important to take into account the manufacturer's recommendations and select models that meet the technical requirements and your design preferences.
Remember: Three car models that should be avoided due to frequent breakdowns